Ways To Watch
Anytime, anywhere Insight.TV is there.
WAYS TO WATCH INSIGHT.TV

Smart TVs
No need to to connect any other devices, Insight is already on your TV. Just download the app and watch. Coming soon. Mobile Devices
Watch at home or on the go with Insight TV apps. Download the app from the Apple App Store or Google Play Store.


PCs & Laptops
And of course you can always watch us right here on Insight.tv using your favorite browser from any computer.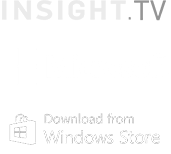 WAYS TO GET THE INSIGHT CHANNEL